Wellbore Stability
GeoDRILL® engineering process helps to remove or mitigate the risk posed by the locations' geological and geomechanical settings to the success of the drilling operations. Events such collapsed hole, stuck drill pipe, BHA, poor cuttings transport and abnormal pressures can be accurately predicted and resolved in order to ensure that drilling operations result in superior hole quality and cost effective wells.
Read More
Well Completion
GeoCOMPLETION® engineering process ensures design and verification of both the lower and upper completion is robust and fit for purpose. Functional requirements such as compliance, operational simplicity, well integrity, zonal isolation and maximum deliverabilty are integrated to ensure fit for purpose completions.
Read More
Sand and Pore Pressure Management & Surveillance
Reservoirs producing solids present a unique challenge to our clients. Our SPMS® system helps our customers to identify and manage the risk to the integrity of the wells, flowlines and plant. It also allows production optimisation through efficient transport of the solids produced while managing flow assurance. Additionally impairment to and optimisation of pore or reservoir pressure can be assessed and maintained. This engineering process is applied in real-time using data from our customer systems for early identification of risk and timely decision making. This results in longer well, reservoir and asset performance.
Read More
Reservoir Mechanical Performance™
Traditional reservoir management has focused on pressure and flow behaviour, our engineers have integrated rock strain and deformation principles that allow a more complete understanding of reservoir performance. Determination of changes in the petro-physical properties of the rock, fault sealing capacity, fracturing and cap rock integrity are some of the aspects that are addressed to realise reservoir potential and wells deliverability
Read More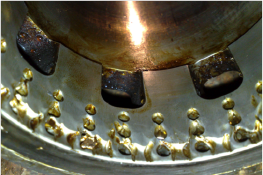 Well Engineering
Our well engineering process addresses a variety of activities related to well and reservoir performance. From the design and verification of models for new technology to independent investigation and diagnosis of equipment failure, Cuttings Re-Injection performance, design & improvements in water injection programs and long term expectations of pressure support and wells deliverability. Our Well Engineering services restore production, injection for the life of the asset.
Read More
Rocks and Fluid Testing
Timely, cost effective and non-destructive rock and fluid test results are key deliverables to most well construction engineering process and projects. Measurements and data mostly gathered at the customer location are used in the verification of models and predictions as well as equipment performance. Accurate and realistic predictions of well, reservoir behaviour and enhanced equipment selection results in lower risk, improved well integrity and performance.
Read More
Thermally Induced Fracturing (TIF)
Thermally induced fractures (TIF) can occur in rocks as a result of cooling caused by the contrast in temperature of the injection or circulation fluid and the reservoir rock. TIF is common in water injection wells, as the injection fluids enter the near wellbore area of the reservoir, its lower temperature starts a heat transfer process whereby the injection fluid is being warmed up and the rock is being cooled. The resulting effects tend to be the mechanical failure of the rock at the wellborn. Engineering design and implementation of Thermally Induced Fracturing TIF can lead to a number of operational, technical and economic advantages.
Read More
Decommissioning and Plug & Abandonment
Aging of producing reservoirs eventually leads to the need for cessation of operations. It necessitates operators to identify, design and implement strategies for safe abandonment of the wells. This means ensuring flow, pressure and mechanical integrity of the wells and reservoir throughout the field. External effects such as pressure maintenance, cuttings re-injection, petro-physical properties changes and well deterioration in time all affect both reservoir and well integrity. A robust abandonment approach must ensure that these risks are mitigated and that the final results assures environmental compliance and safe isolation of the reservoir and wells for the future.
Read More
Cuttings Disposal and Re-Injection Services - CRI

For over 20 years Innovative Engineering has been supporting our clients with their well integrity and drill cuttings disposal operations, from modelling cutting's deposition on the sea bed, disposal's well design and geological target selection to effective surveillance and assessment of CRI operational programs robustness and associated risk. This has helped our clients to significantly reduce their cost, identify risks and potential reservoir and well integrity problems that might result in potential liabilities in the long term
Read More
Water Injector Performance
Effective reserves recovery and pore pressure maintenance is commonly achieved through water injection. In assets using injectors, well design varies dramatically and reservoir response requires continuous surveillance in order to ensure maximum hydrocarbons recovery, reservoir and well mechanical integrity through the life of the field. For many years, Innovative Engineering have helped our clients to enhance performance of their water injection operations throughout the injection processes (Plant, wells and reservoir)
Read More
Sanding Prediction
Innovative Engineering has technical and operational experience performing sanding/sand production prediction studies and sand control operations for our clients in the North Sea, West & Northern Africa, Paris & Aquitaine Basins and South America. This experience in different geographical regions has allowed us to work on data from different stress regimes and geological formations. We actively contribute to advancing the science of sanding prediction as a founding and continuing member of the Sand Management Network based in Aberdeen, United Kingdom. Our capability is also strengthened by the integration of well performance and production optimisation assessment of the reservoir & well in order to assist our client's in achieving maximum hydrocarbon recovery.
Read More